Tastings Vintage Wine Truck is excited to be pouring your favorite wine's at the
2019 Sound Sport International Music & Food Festival!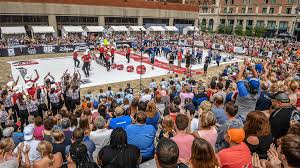 Bigger and better than ever in 2019, over 20 performing ensembles are scheduled to compete in Indianapolis at the SoundSport International Music & Food Festival. Drum Corps International's SoundSport division showcases ensembles of any age, size and instrumentation in an intimate performance atmosphere. Performances will take place in the Pavilion at Pan Am with stage lighting, video screens and 900-seat bleachers giving an intimate view of the action. Meanwhile, DrumLine battle pits lines in up close and in-your-face high energy competition on Pan Am Plaza. Be on the lookout for a variety of Indianapolis' gourmet food trucks surrounding the arena, as the streets of downtown Indy turn into a festival of the performing arts.